State of the Leaderboards

After the ACR software upgrade last May, all tournament results have to be manually entered.

The Bonanza leaderboard continues with one exception, individual KO data is unavailable. Total KO awards are available and included in total prize dollar evaluations.

The Bside/Redux leaderboard is suspended.

The Freebuy leaderboard continues by gleaning the top 50 finishers. If payouts exceed 50 players, the stats will be included for winnings totals.

We may need help with screenshots of the Freebuy lobby as those positions get reported -- any help in this department would be appreciated.

The Bonanza (currently) is being entered live as the tournament progresses. You will actually see the leaderboard update through the night every 5 minutes.
October 2019 Awards
What a wild end to the month this Halloween!! Both battles came down to the wire. And how about that Seaeyes, she was a monster all month!
Freebuy Awards
🎖 Points Title - Shady Slim
🎖 Winnings Title - Badb0iie
🎖 Freebuy Queen - Seaeyes
Bonanza Awards
🎖 Points Title - Steve22055
🎖 Winnings Title - MyWorld119
🎖 Freebuy Queen - Seaeyes
This month had shades of August 2018 when we just started with the leaderboards. After a 5 month hiatus, one cancelled night and almost starting from scratch again, it was a fun month filled with all the usual suspects.
Congrats to all of our winners! Word to the wise, this month will be a little bit tougher!
For complete recap, read on ...
In the Spotlight
October results are in the books!

Shady Slim's 3rd place finish secures Points Title!

Badb0iie takes home Winnings Title!

Seaeyes is our Queen of the Freebuy!

October results are in the books!

Steve22055's 4th place finish secures Points Title!

MyWorld119 takes home the Winnings Title!

and what's this? Seaeyes is the Bonanza Queen too?

Suspended
Points Scale
State of the Bounty - May thru Oct 2019
The lastest Bounty Pool Recap is in the works. Stay tuned.
April's Hall of Fame
The following members donated to THR throughout the month and deserve a round of applause! If you see them, please let them know how much they are appreciated
badb0iie, BenjiSnoopy, braindamageoy, cariesky, dpolerio, echomsp, gpeppin, INeedFreedom, Lendo777, lignerant131, MerlinCN, MrLaufer, raddeckel, RadioWade, Ravarros, reignoffire, rjs1275, robjcar48, robt233, seanienofish, singmeatune, smokecifer, vegasbound10, wrenchturn, yardbird
Freebuy Leaderboard (October 2019)
* Leaderboard data only includes top 50 finishers, those who recieved points only. If total payout spots exceed 50, they will be tracked for winnings purposes.
Week #5
Monday ($28.60)
Gotta love the players at THR. This was our lowest turnout in over 3 weeks, but guess what? We broke the GTD prize pool for the 5th night in a row!
Tonites turnout was 89 strong!! And most of us were in Chat!
It was a good night of friends, cards, brags, and not-so-brags (i bombed 4 or 5 hands, like, bam-bam ... maybe another bam-bam later too)
Huge win from Badb0iie for $7.23! He pushed into #1 last Friday for winnings, and piles tonite's $$ on top of it. He moves into the #2 slot on the board!
... Shady's 7th place finish is the only reason he is #1 over Badb0iie! A mere 55 points seperates them! Oh man, shit is getting real!!
BornIn1500 took down 2nd for $4.43
ReignOfFire took down 3rd for $3.14. His last 2/3 finishes have been deep into the final table for a big gain. He sits in the #5 slot.
JHusker has another good appearance with a 4th place finish. He is about to break that $10 mark.
Splitgreens hits #10 with a 5th place finish.
Tuesday ($26.60)
One player shy of 100 and 6th night in a row we busted that $25 prize nut!
Steve22055 took down the win for $6.73! WTG bro!! Big win for the big guy! He moves into the top 10 and is currently in the #7 slot.
This guy amazes me sometimes. Even with his game going, he noticed that I disconnected. I didn't get back into Chat until everyone had left. LOL. I found the final screen in my email inbox too. What a bro!! TY
IJustWin03 took down 2nd for $4.12.
Seaeyes took down 3rd for $2.92. This finish distances herself more over Damnthtsweet. Sea is currently in the #6 slot and lead bee for Queen in both Freebuy & Bonanza! In the case of the Bonanza, she has a shot at the Title too.
Big gain by GPeppin with a 5th place finish to move closer to that #1 slot. He is currently in #3 and has a good shot in the last two days of the month.
Wednesday ($25.00)
We had 92 players join us on Wednesday night.
ericlybar took down the Win for $6.27!
Paco777 took down 2nd for $3.87.
steve22055 took down 3rd for $2.75. He climbs into the #4 slot.
gpeppin hits his 7th final table with a 5th place finish and is now 35 points behind #1 Shady Slim. One more game to go!
Thursday ($30.20)
We had 100 players join us for the final game of the month. And a great prize pool to end on too!
DACRANAZI took down the win for $7.62!
DGFOUR took down 2nd for $4.68.
Shady Slim made a high 8th final table appearance and took down 3rd for $3.32! This kept his #1 spot alive to take home the Points Title! Congrats me, LOL!! Shady began to sweat over GPeppin who trailed by 35 points. You had me scared for most of the night. Good job Pepp!! New month tonite =)
Badb0iie did not finish in the money, but still held onto his #1 spot for the Winnings Title. Among his cashes were a win and two 2nd place finishes. Congrats buddy, job well done!!
And Seaeyes did not need to even show up tonite, but she did!! What a trooper and she takes home the Queen of the Freebuy title. With 4 final table appearances, she hit 3 of them for gold. She also took home the Queen of the Bonanza too. What a great month Sea. Congrats girl!!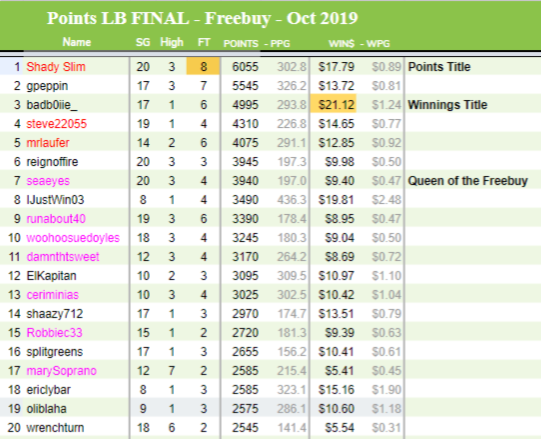 Bonanza Leaderboard (October 2019)
* The $ value in parenthesis after the day are total awarded dollars (Prize$, KO$ & added bounties/awards)
Week #5
Monday ($44.90)
Dunner handed out entries earlier in the night and stuff exploded! We had a record 43 players with 74 total entries! Woot!!
Raddeckel is a long time player, sometime winner & took down the win for $6.69! VGG bro. Welcome back!
theANIMATOR played his first Bonanza and took down 2nd for $4.44. Another $2.22 in winnings, you will have the mark of the Bonanza!!
EricLybar took down 3rd for $3.33. Eric also took the win last Friday in the Freebuy. VGG tonite Eric!!
Congrats to Steve22055 & GPeppin for their 10th final table appearances. They are tied with BenjySnoopy in that department and share a lot of confrontation that went with it.
One thing that didn't work out tonite was the "average chip leader" bounties on Wrenchturn & WoohooSue. Both went unclaimed -- sad!! Woohoo made the FT for double too -- more sad!!
On the other hand, 74 quarters on the felt .. um .. felt great! Thank y'all for a fun night!
Tuesday ($42.65)
Another great turnout with 41 players and 71 entries total!
Singmeatune took down a great win for $6.95! She breaks into the top 10 on the board too and is in the 9th slot.
Heathencore took down 2nd fo $4.47. This finish lands Heathen in the #6 slot.
Damnthtsweet took down 3rd for $3.19.
Myworld119 took down 4th for $2.13 and a final table mystery bounty on BenjiSnoopy for another $2.40! This finish pads his #1 winnings slot. VGG!
Br0kenM4gyk picked up the other mystery bounty on Reinhardt for $1.20.
And BenjiSnoopy & GPeppin made their 11th final table appearances and finished in 8th & 9th respectively.
Wednesday ($32.75)
Low turnout on Wednesday with 32 players, but we had 53 entries.
1ACRPLAY1 took down the win for $5.90. She also snagged the final table bounty on Abq Slim for $2.40. VGG girl!
abq slim took downn 2nd for $3.97.
koa27 took down 3rd for $2.38
BenjiSnoopy hits her 12th final table
Thursday ($45.55)
Moderate turnout with 35 players and a total of 51 entries vying for 3 $5.00 bounties during the final game of the month.
Woohoosuedoyles took down the win for $5.68. She also snagged the rollover bounty on MrLaufer for $2.50.
Dpolerio took down 2nd for $3.82.
Mrlaufer took down 3rd for $2.29 and snagged the $5.00 bounty on Heathencore. He elected to roll half of that onto himself, ty bro!
Steve22055 took down 4th for $1.53 which helped him retain his lead slot and is our Points Title winner for October! He must have been sweating it a bit with his two closest rivals at the final table with him. The closest was Seaeyes who finished in 9th. And Shady who finished in 7th. After that, he begain to breath again, Congrats bro, and job well done this month.
Dumuzi took down 5th for $1.14, but left an unclaimed $5.00 bounty for Wrenchturn on the table. Ceriminias snagged a $5.00 bounty on Bricxjo though.
Seaeyes finished in 9th to maintain her lead lady status and is our Queen of the Bonanza this month. Sea came out shooting from day one with a sweet 3-day run. Always a thorn in your side right up til last night. She finished with 8 FT appearances including a win, and 6 of those where top 5 or better. Always in the money! She also grabbed the Queen of the Freebuy title as well!! VN job this month Sea, and Congrats!!
MyWorld119 takes home the Winnings Title this month. His 3-day run that included back-to-back wins mid-month pretty much sealed the deal early on. VG month for you buddy! Congrats.
And BenjiSnoopy bubbled the final table, but still finished up with the high 12 final table appearances for the month. VG games Benji!!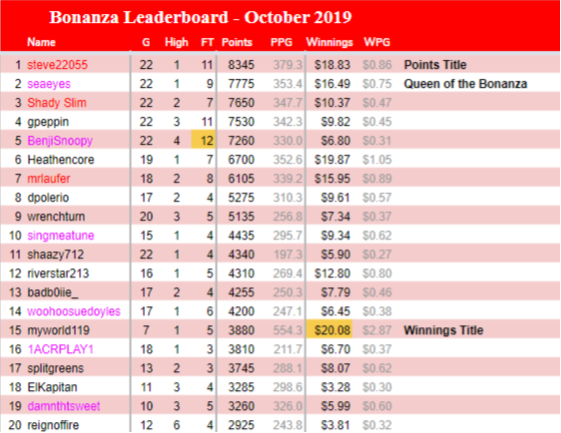 B-side/Redux Leaderboard (Suspended)
The B-side/Redux leaderboard is suspended until further notice.